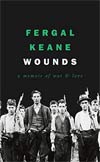 Fergal Keane won the twenty-fifth Christopher Ewart-Biggs memorial prize for 'Wounds', published by William Collins.
We also awarded a special prize of £5,000 to Professor Marianne Elliott for her achievement in advancing the understanding of Irish history in Britain.

The winner was announced at a reception at the Titanic Centre, Belfast, on the evening of 11 April 2018. The Judges are available for interview. Please contact Mathilde Rimbert, email: rimbert.mathilde@gmail.com.
Speaking for the judges, Professor Roy Foster said:
"This year's list, which covered three years, was extremely strong and varied: it included a  cultural study of the border, never more relevant than today; an intensely vivid child's-eye memoir of Bloody Sunday; a strikingly original study of the Ulster Protestant dramatic imagination;  a thoughtful insider's view of the Sunningdale Agreement, prophetic in several ways;  an enlightening analysis of the BBC's part in covering the Irish Troubles; and a substantial and moving collection of poems by a gifted poet who has stayed the pace.  But our choice of Fergal Keane's powerful  book Wounds was unanimous. Fergal  Keane is a legendary journalist who is also a  first-rate historian and a marvellous writer. Using these gifts he has explored the complexities of personal and political relationships in a North Kerry townland at a time of revolution,  with an insider's knowledge and the incisive analysis of an impartial outsider. As the Irish proverb he quotes in his last paragraph says, there are two versions of every story and twelve versions of every song; in giving us both versions he has produced a classic and moving history, which epitomizes the values which Christopher and Jane Ewart-Biggs stood for, and which their Prize recognizes.

The same is true of the work and achievements of Marianne Elliott. She has written a number of path-breaking histories, dealing with the eighteenth-century Irish republican tradition, the history of the Catholics of Ulster,  a study of religious animosities in Irish history, and most recently a history of an experimental housing estate in Belfast that is also a personal memoir. There is also her great achievement in building up the Institute of Irish Studies in Liverpool into a beacon of Irish academic achievement in Britain, and her tireless work on the Opsahl Commission and other  initiatives devoted to bettering life in Northern Ireland. Her achievements as a public intellectual could not be more relevant  to the tradition of work commemorated  by this Prize, and we are delighted to recognize them."
The shortlist
In arriving at a final short-list the judges stressed that they had chosen works that embodied the objectives of the Prize, which are to promote and encourage peace and reconciliation in Ireland, a greater understanding between the peoples of Britain and Ireland, or closer co-operation between the partners of the European Community.  These are the ideals which inspired Christopher Ewart-Biggs and to which his widow Jane subsequently dedicated herself.
Short-listed entries
Noel Dorr, Sunningdale: the search for peace in Northern Ireland (Royal Irish Academy)
Tony Doherty, This Man's Wee Boy: a childhood memoir of peace and trouble in Derry (Mercier Press)
Fergal Keane, Wounds: a memoir of war and love (William Collins)
Peter Leary, Unapproved Routes: histories of the Irish Border 1922-1972 (Oxford University Press)
Frank Ormsby, Goat's Milk: new and selected poems (Bloodaxe)
Connal Parr, Inventing the Myth: political passions and the Ulster Protestant imagination (Oxford University Press)
Robert Savage,  The BBC's 'Irish Troubles': television, conflict and Northern Ireland (Manchester University Press)