The twenty-second Christopher Ewart-Biggs Literary Prize, worth £5000, was awarded jointly to:

Julieann Campbell
Setting the Truth Free: the inside story of the Bloody Sunday justice campaign
Liberties Press, 2012
[Book]
Read speech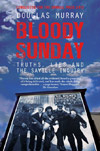 Douglas Murray
Bloody Sunday: truth, lies and the Saville Inquiry
Biteback Publishing, 2012
[Book]
Read statement
A Special Award also of £2,500, was given to the journalist and writer Peter Taylor for his work covering Northern Ireland over many years.
The Prize was presented by Olivia O'Leary at a ceremony at the Department of Foreign Affairs and Trade, Iveagh House. The Judges are available for interview.
Read Press coverage
Speaking for the judges, Professor Roy Foster said:
"This year we short-listed a number of books dealing with re-examining the past: Marilynn Richtarik's and David Fitzpatrick's masterly biographies of a playwright (Stewart Parker) and a churchman (Frederick MacNeice); and two highly original panoramic histories by Diarmaid Ferriter and Alvin Jackson, putting Ireland's recent history in a new perspective.

"But in the end we decided that the Prize must be jointly awarded to two books on the terrible events of Bloody Sunday in Derry and their aftermath. Julieann Campbell's account of the campaign waged by the families of the victims presents a fascinating account of a grass-roots movement fuelled by few resources other than an absolute determination to see justice done; Douglas Murray's account analyses the proceedings of the Saville Inquiry accessibly, thoughtfully and with forensic care. Both books in different ways demonstrate the necessity to investigate and face up to the unwelcome facts behind received versions of the truth, which is as essential in Northern Ireland as it as ever been.

"The same is true of Peter Taylor's journalism, books  and television programmes over many years, which we felt deserved a special award. The work of all three winners is squarely in the tradition of the Prize, which emerged from Jane Ewart-Biggs's own determination to make something constructive out of the memory of tragedy."
The six shortlisted entries were:
Julieann Campbell, Setting the Truth Free: the inside story of the Bloody Sunday justice campaign (Liberties Press)
Diarmaid Ferriter, Ambiguous Republic: Ireland in the 1970s  (Profile Press)
David Fitzpatrick, 'Solitary and Wild': Frederick MacNeice and the Salvation of Ireland (Lilliput Press)
Alvin Jackson, The Two Unions: Ireland, Scotland and the survival of the United Kingdom, 1707-2007 (Oxford University Press)
Douglas Murray, Bloody Sunday: truth, lies and the Saville Inquiry (Biteback Publishing)
Marilynn Richtarik, Stewart Parker: a life (Oxford University Press)
Speaking for the Judges, Professor Roy Foster said:
"The function of this Prize is to enhance understanding between people, which often involves re-examining the past at both a historical and a personal level. We have shortlisted for the 2013 Prize works that illuminate a traumatic era in Irish history.

There are two books dealing with the events and aftermath of 30 January 1972 in Derry, from the perspectives of the campaign for justice and the eventual proceedings of the Saville Inquiry; two panoramic histories, one portraying Ireland in the 1970s, the other analyzing the comparative histories of the Irish and Scottish Unions; and two consummate and penetrating biographies, which illuminate the ways in which the lives of two very different figures illuminated, reflected and defined the culture of the Ireland they lived in."