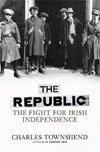 The twenty-fourth Christopher Ewart-Biggs Memorial Prize has been won by Charles Townshend for his book The Republic: the fight for Irish independence 1918-1923, published by Allen Lane.


The Trust also awarded a special prize, in memory of Seamus Heaney, to the poet Colette Bryce for her book The Whole and Rain-domed-Universe (Picador).
The Prizes were presented by Sir Christopher Bland and Catherine Heaney at a ceremony at the Irish Embassy, London.
Read Sir Christopher Bland's speech.
Speaking for the judges, Professor Roy Foster said:

"This year's list was extremely strong, and also varied: it included political commentary on the end of hostilities in Northern Ireland, a therapeutic theatre project, a penetrating series of interviews with Ulster people, a study of negotiations with terrorist groups,  and a  haunting film about Belfast in 1971. But our choice of Charles Townshend's powerful history of the Anglo-Irish war and its aftermath was unanimous: magisterial, impartial and incisive, it is a benchmark in Irish historiography and comes as the climax of a series of brilliant books elucidating politics and violence in Ireland produced by Professor Townshend over the past forty years. We also decided to award a prize in memory of Seamus Heaney, a good friend to the Prize, whose own work did so much to advance the causes for which it was founded. The strikingly assured, subtle and moving collection of poems by the Derry poet Colette Bryce  constitute an utterly appropriate winner for this special award."
Shortlisted entries
Feargal Cochrane, Northern Ireland: the reluctant peace (Yale University Press)
Mark Carruthers, Alternative Ulsters: conversations on identity (Liberties Press North)
Yann Demange [director], '71 [feature film]
Jonathan Powell, Talking to Terrorists: how to end armed conflict (Bodley Head)
Theatre of Witness, Derry [body of work]
Charles Townshend, The Republic: the fight for Irish independence 1918-1923 (Allen Lane)
The eligible work covered a two-year period (2013 and 2014) and produced a wide and stimulating variety of entries.
In arriving at a final short-list the judges stressed that they had chosen works that embodied the objectives of the Prize, which are to promote and encourage peace and reconciliation in Ireland, a greater understanding between the peoples of Britain and Ireland, or closer co-operation between the partners of the European Community.  These are the ideals which inspired Christopher Ewart-Biggs and to which his widow Jane subsequently dedicated herself.